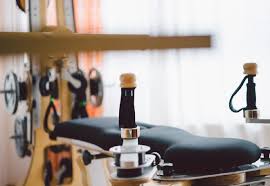 GYROTONIC® exercise is a unique movement method for all ages and physical abilities that incorporates  movement principals providing similar benefits derived from yoga, tai chi, swimming, and dance.
Developed by Juliu Horvath in 1982, the GYROTONIC® method utilizes circular, flowing movements, which blend together rhythmically. These exercises allow each movement to flow into the next, allowing the joints, muscles and limbs to move through a natural range of motion without jarring or compression while simultaneously stretching and strengthening the muscles and muscle attachments.
GYROTONIC® exercise invites you to meet your body where you are at and then move, breathe and expand into your full self. The system calms and invigorates your mind, body and spirit so that you experience a feeling of connection throughout.
The exercises are performed on unique equipment that offers both support and resistance and is fully adjustable for any body type. Exercises include arching, curling, spiraling, and undulating movements that are combined with breath work to create rhythm and flow.
GYROTONIC® sessions complement other fitness activities, and help to prevent sore muscles and strains. GYROTONIC® training is used worldwide in rehabilitative settings as well, making the system beneficial and enjoyable for everyone!
GYROTONIC® exercises can be adapted to fit all abilities. People from all walks of life, including accomplished athletes, dancers, working professionals, senior citizens, children, and people with disabilities practice the GYROTONIC® method.
Rates
Rates vary depending on your choice of sessions from the following and are typically 1 Hour in duration.
PRIVATE Sessions (Adult) – 1 Hour
*Special Introductory Concession rate of 3 Private Sessions – $280 (new clients only)
Single Session                           $100
Concession of 5 Sessions.       $475
Concession of 10 Sessions.     $950
PRIVATE Sessions (Children)
*Special Introductory Concession rate of 3 Private Sessions – $250 (new clients only)
Children Sessions 1 Hour.    $90
Concession of 5 Sessions.       $428
Concession of 10 Sessions.     $855
Children Session 1/2 Hour   $50
*Special Introductory Concession rate of 3 Private Sessions – $130 (new clients only)
Concession of 5 Sessions.       $238
Concession of 10 Sessions.     $450
Terms and Conditions
I accept payment by cash or via online banking only.
All concessions have a 6 month expiry date from date of purchase. Please contact me before your concession expires if you need to put it on hold due to unforeseen circumstances such as illness or an extended holiday.
​Sessions and packages are non-refundable but in certain circumstances I will consider a transfer to another client. Please talk to me in advance.
​If you are feeling unwell during a session or in the event of an injury occurring, please let me know immediately. I may need to stop the session or adjust the equipment.
During a session, please turn off your mobile phone or leave it on silent.
​Please stay away if you are unwell, have a fever, are experiencing flu-like systems, coughing or sneezing, are expecting the results of a COVID-19 test, or have had vomiting or diarrhoea in the past 48 hours.
Cancellation Policy
A minimum of 24 hour notice is required for cancellation for a refund to be applied. I charge full price should cancellation occur within 24 hours. Medical and Personal Emergency exemptions will of course be considered for full or partial refund on a case by case basis.
GYROTONIC®, is a registered trademark of Gyrotonic Sales Corp and are used with their permission.